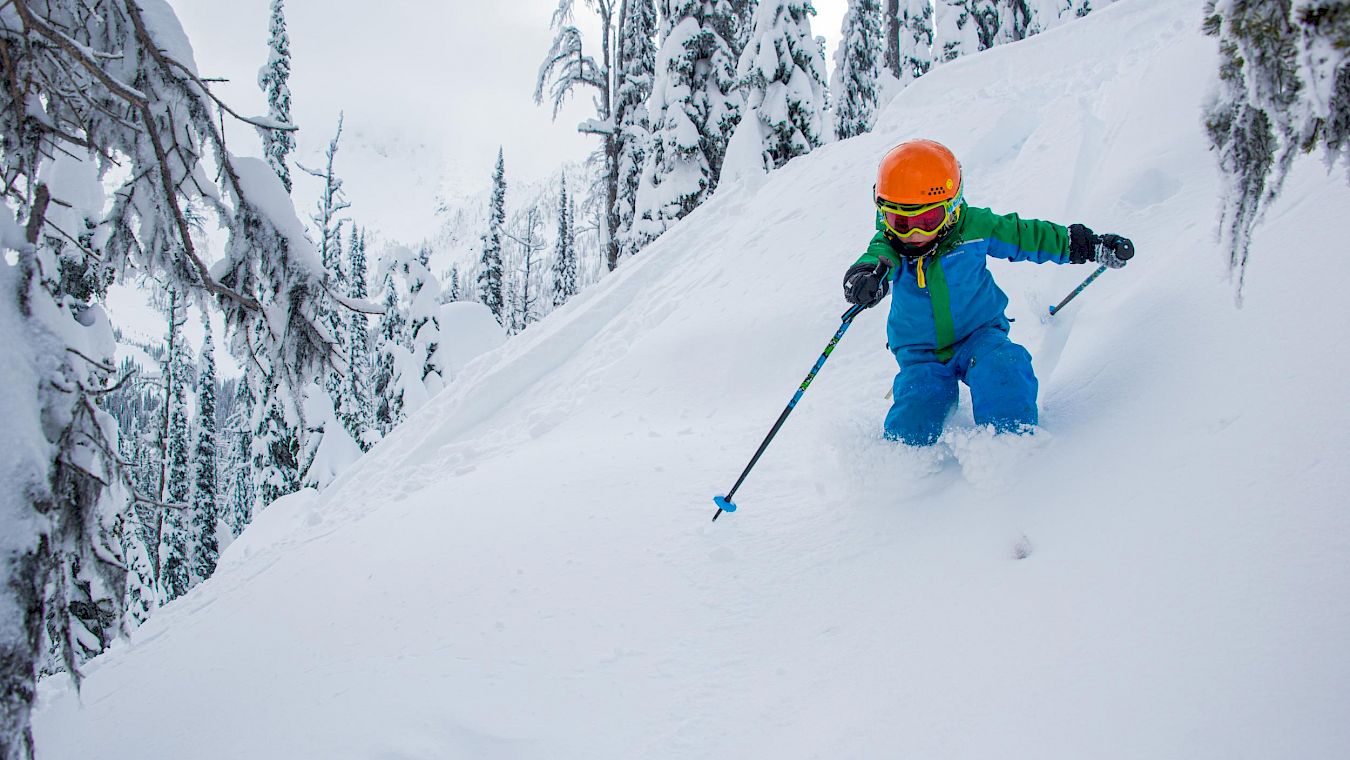 Blog Post
Kid-friendly winter activities in the Kootenays
Winter time can be magical when seen through a young person's eyes. The world kind of sparkles, trees look like they are dusted with icing sugar and the mountains seem all the more majestic when they're wrapped up in their cozy white blankets.
I unfortunately grew up in the UK. Winters for me were soggy and grey. Snowball fights were few and far between, and most of the ski season was spent dreaming of powder, rather than shredding it. Now that I live in the Kootenays, I feel like a little kid again. I get giddy with excitement at the mention of a snowball fight… let alone any of the other amazing winter activities that you can get up to in this area. So whether you're a local or a visitor, see below for my top recommendations of things to do with your kids this winter, or maybe what to do if you just want to embrace your inner Peter Pan.
Learn to ski & snowboard
I started skiing when I was 5 years old. My parents enrolled me in full-time ski school for a week on a family holiday. They said it was so that I could have in-depth learning, but really I think it was so that they could tear off down the mountain by themselves. Some parents opt to teach their own kids how to ski, but based on experiences later in life when my dad tried to teach me how to drive, I'm glad that they opted for professional instruction on this occasion. If you want to follow suit, check out the Whitewater Snow School Holiday Camps and Weekend Camps … or see our adult programs here.
Night skiing
Whitewater isn't the only place to go skiing! Salmo Ski Hill is an awesome volunteer-run local hill, claiming to have "the longest T-bar in North America". During the week, Salmo opens just as Whitewater closes, offering night skiing Monday – Thursday from 5:30pm – 9:00pm. Watch everyone's faces light up as they get to ski under the stars and finish the night with a delicious hot chocolate.
Competitive skiing
If your kids are already jumping off cliffs and leaving you for dust, it might be time for them to join the Whitewater Freeride team. Every weekend, kids between the ages of 8-18 can come together with experienced coaches to learn how to harness their adrenaline. When they're good enough to compete, they might even want to enter the Whitewater SMITH Junior Freeski competition. This year the comp on January 10th-12th will welcome 150 athletes between 7-18 years old. On Sunday January 12th, a big spectator zone will be set up right next to the Summit chair – bring your whole family along and watch these kids send it!
Snowshoeing
Snowy adventures aren't limited to speedy descents! Snowshoeing is such an awesome way to experience the magical winter wonderland on our doorstep – especially with kids in tow. The Nelson Rail Trail and the Whitewater Multi-Use trails are great spots for mini (and free!) weekend adventures. If you're looking for something new and exciting, this year there will be a guided sunset snowshoe during the Whitewater Winter Carnival on Saturday January 18th, ending with s'mores around the campfire. The day will also feature carnival games, dogsledding, fireworks, face painting, a local craft fair, live music and a buffet dinner. A perfect winter family day out.
Ice skating
There's some amazing places in the Kootenays for skating. If conditions are right, Cottonwood Lake, Lions Park and the North Shore of Kootenay Lake are all beautiful outdoor spots. If it's marginal, play it safe and head to the rink in the NDCC, which has regular public skating sessions. If you'd rather stay off the ice and watch others do the skating, watching a local hockey game with the Nelson Leafs is a great evening activity for all the family.
Playing in the snow
Snowball fights or snowmen competitions, whatever your preferred snowy activity, there's no shortage of places in and around Nelson to play. Because of the big open playing fields, Lakeside Park is my favourite place to head to anytime I feel like making snow angels.
Warming up afterwards
Half the fun of being outside in the winter is warming up afterwards. There's no shortage of amazing coffee shops in Nelson to grab some hot chocolate, mulled cider or other warm beverages to defrost your fingers. But don't forget to replenish your food stores too! Regardless of age, pizza parties are always fun for families and groups of friends. If I have any excuse, you'll find me in Marzano with a boozy coffee and a pizza, all to myself (don't worry there's plenty of kid-friendly drinks too…)
No matter what your age, there's plenty of activities in the Kootenays to entertain you every single day of the winter.
Written by Bex Dawkes​ Cover photo by Steve Ogle
If you're looking for family-friendly accommodation this winter, check out the Best Western on Baker Street. They're the accommodation sponsor of this year's Junior Freeski. Plus, Marzano is right downstairs…