Blog Post
The Details of Luxury: Ymir's Logden Lodge
11:35 p.m. found me with blurry eyes and the front of my head aching with increasing intensity. I'd spent more hours this month ?? heck, the past four years ?? answering the never-ending stream of emails, covering social media and satellite organization needs, jumping in Skype meetings to discuss new projects, marketing a new fundraising campaign, and trying to not punch my screen while I mixed up HTML, CSS & PHP coding for our new website.
The blue glow from the screen was burning its imprint into my eyes. I needed to break away before I melted down completely.
It's not that you have to look far to escape into a wild place in British Columbia; civilization isn't the rule in this province. But I wanted to relax, not worry about setting up a tent. And though I don't usually mind braving the elements, I wasn't in the mood for the very real possibility of me waking up, sleeping pad deflated, shivering through the rest of the night.
For once, I just wanted a li'l pampering.
Being new to the area, I wasn't sure where that was going to take place, but I did know that Whitewater set up deals for their season pass holders. So that's where I turned.
I scanned the list until I came to Logden Lodge's description: "42 private acres of pristine unspoiled forest...and undisturbed peace after a long exhilarating day in the white outdoors."
Done. I sent an email to Paul and Annelies, the owners, and booked a stay with them.
Pulling up to the wooded escape that next week, Paul greeted me at my car and shouldered a couple of bags, which included groceries. I could have opted for local catering, but my standard of pampering fell below that level of luxury; my idea of perfection only needed the quiet Logden promised.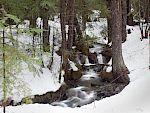 Paul led me toward the "Elise" cabin which bore the same name as the creek running just a snowbank away from the cabin's exterior. I could spot the cabin's walls glowing through the trees, almost like the light was emanating from the inside out.
When I stepped inside, I wasn't surprised that it appeared that way.
If you can imagine a cabin worthy of a spread in Architectural Digest, but torn out and placed in the middle of 42 acres of wild Kootenay woods, you'd have Elise cabin. Actually, you'd have all of Logden's cabins. This isn't just because of the design ?? which is pretty clever, as it's born of the owners' European inclinations ?? but also because each includes pieces either collected from the property's mining camp remains (such as antique windows found half-buried) or from the couple's travels.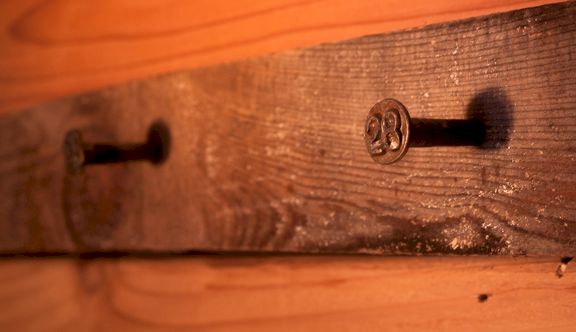 And one step beyond that, it was probably because of Paul and Annalies' intentions when they decided to escape to this tiny outpost called Ymir. Both had high-profile jobs back in the Netherlands and abroad, Paul as a member of the United Nations and Annelies for the Dutch Ministry of Foreign Affairs. But there was a pull to the quiet side of life, back to the land.
That pull is evident in the acres of their wilderness retreat and in each cabin itself.
I dropped my bags as my eyes went to the woodstove. It wasn't a grand thing; it was comfortable, sufficient, humble. And it was lit immediately.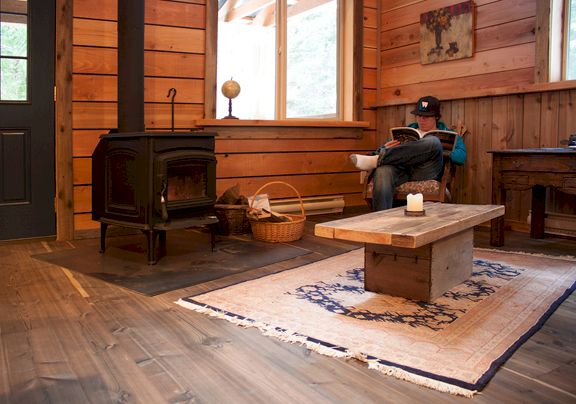 That's how Lodgen is: the luxury pieces are highlights and are given room to shine. However, don't take that to mean the cabins are lacking in other areas. Instead, the owners kept their interiors to a simple formula: use pieces that create nostalgia and familiarity ?? like the woodstove ?? to create a backdrop for the places where luxury is appreciated ?? the deep bath, the cloud-like beds. By using this combination, they've created a place that's touchably hands-on, happily surprising, and lets you settle into the place rather than being scared you'll break something.
I cooked dinner and served it on the dining area's bench table. It was a long dinner, not because of the number of courses (only one) but because of the conversation. The food tasted better ?? there was room to concentrate on it without the interruptions of texting and email checking. The conversation continued while dishes were tidied up and until the heat of the fire softened.
10:30 p.m. My eyes were clear and my head was happy, but I was ready to enjoy a quiet rest. It being mild, I opened the window a crack to let in the noise of the creek, then sunk into a bed that I didn't have to make the next morning. No emails. No Skype. No HTML coding. Just the water moving over rocks outside, the soft flicker on the walls from the woodstove, and sleep.