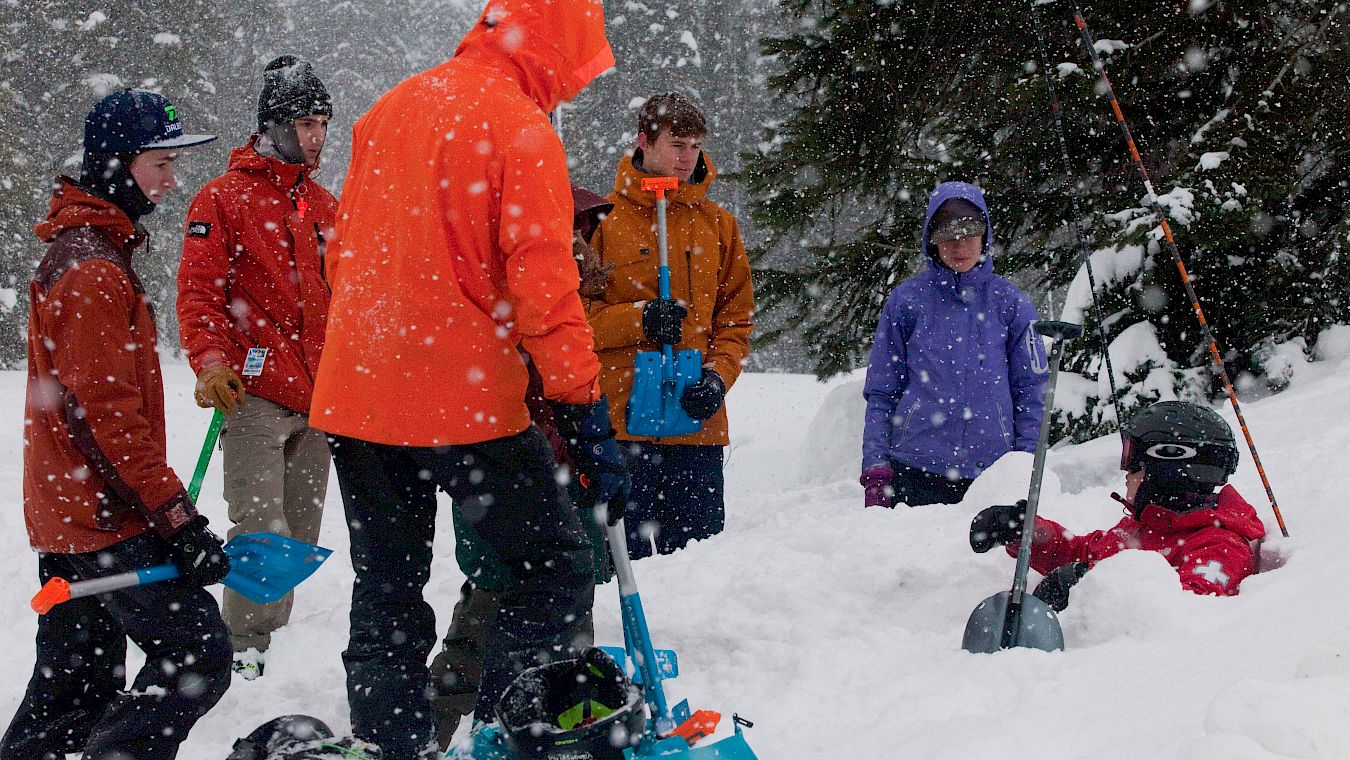 Youth AST 1
Explore beyond the boundary - Your gateway to the backcountry.
Whitewater Ski Resort is proud to offer a Youth Specific AST 1 courses as part of our Avalanche Education Program. This course is nationally recognized and essential for adventuring beyond the resort boundary! We'll start out covering some Avalanche Theory and backcountry best practices in an evening classroom session, followed by two action-packed field days beginning at Whitewater Ski Resort – getting familiar with gear and practicing companion rescue skills, getting familiar with recognising avalanche terrain and exploring decision making while moving through backcountry avalanche terrain.
Learn from Whitewater's Snow Safety personnel on how to stay safe and make smart choices when exploring the backcountry. Small group sizes allow for a supportive learning environment with one-on-one feedback and lots of time for questions to get the most out of your course.
Historically, Whitewater has partnered with the non-profit AABBS to offer an Avalanche Canada-approved Youth AST course. After nearly 13 years of providing low-cost AST programs to over 500 youth participants, the AABBS regrettably announced that they were not able to offer avalanche awareness programs for the 2022/2023 season. As a result, Whitewater has been running our own Youth AST 1 course following the curriculum provided by Avalanche Canada, drawing on the instructor's experience and feedback from youth in order to maximize interaction and engagement.
Click here to view the AABBS Press Release, and scroll down for more info on Whitewater's Youth AST 1 course!
What you'll gain
Trip planning skills
Identification of avalanche terrain
Safe travel techniques
Companion rescue skills
An in-depth understanding of the avalanche forecast
The Avalanche Handbook and Avaluator
A nationally-recognised Youth AST1 certificate
What experience is required?
Backcountry Ability
None! This course is for everyone! It's ideal for someone who has never ventured beyond the boundary, and for those who are already getting out there. No matter your experience or ability, we tailor our courses to your needs and knowledge.
Fitness Level

Some! An average level of fitness is required.

You should be comfortable being outdoors in cold weather all day, and able to undergo moderate physical activity throughout the day.

You won't be left behind, and snack breaks on the way up the skin track are always encouraged.

Riding Ability
A strong intermediate riding ability is required, with confidence in untracked powder and trees. This is not a skiing course, we're here to learn. With a bonus run back to the resort each day!
Youth must be 13+ and an intermediate to advanced rider in order to participate
Transceivers/shovels/probes will not be provided, therefore students will have to organise rentals prior to the course
Course Dates
Please note:
The first day is from 5:00 pm - 8:00 pm and takes place in town. The second and third days are from 9:00am - 4:00 pm at Whitewater Ski Resort.
AST courses require a minimum of 6 participants to proceed. If a course has fewer than 6 participants it will not run and those scheduled to take the course will have the choice of a full refund or to be scheduled in a later date (if available).
Cancelations must be made outside 48hrs from the course start time. A $25 admin fee will be applied to cancelations.
All participants in Avalanche Skills Training courses must complete a student release on the first day of the course. This can be viewed below.
Click to view the Parent Consent and Acknowledgement of Risk Click to view the Whitewater Backcountry Access Waiver