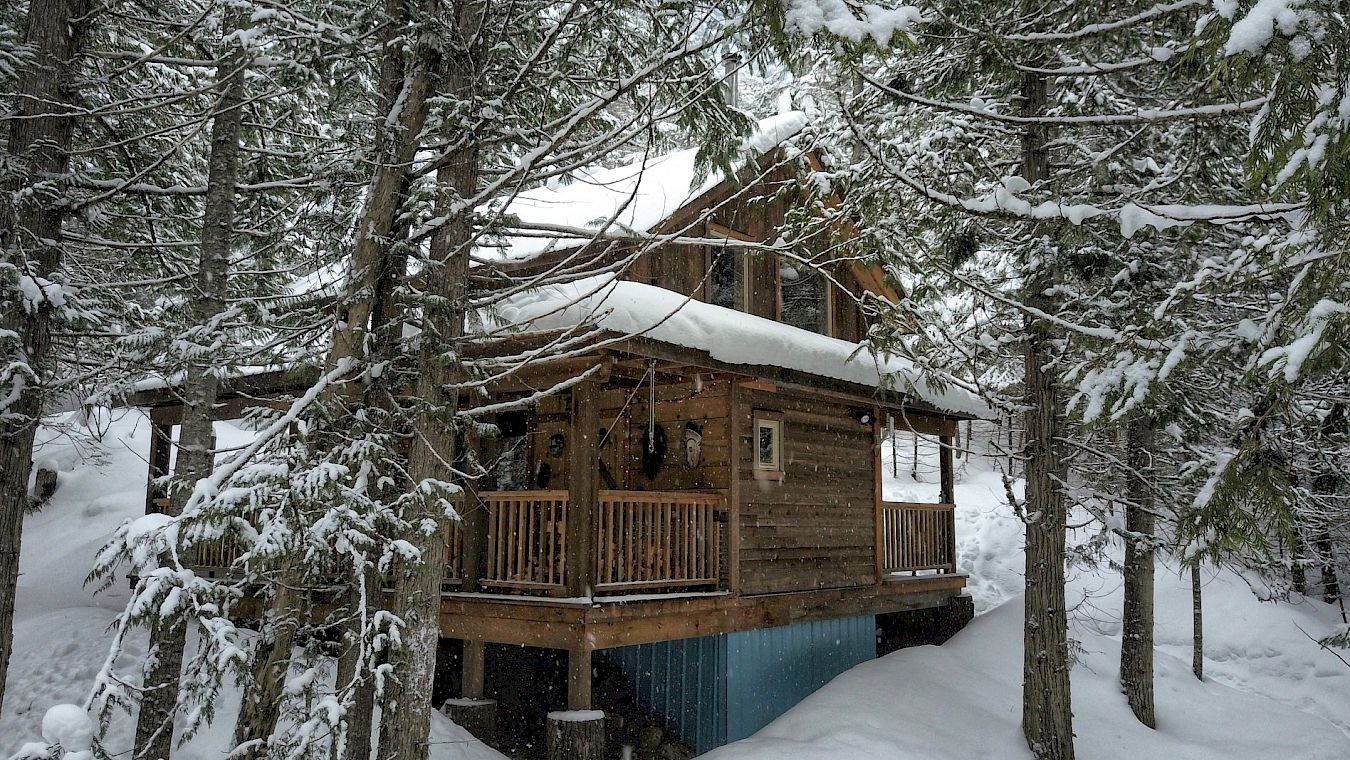 Blog Post
Finding home in the Kootenays
The local community in Whitewater, Nelson and the Kootenays is made up of an eclectic mix of people from all over the world, all with wildly different backgrounds. It would appear that once you've stumbled across this snowy piece of paradise, it can be quite hard to leave.
We sat down with Paul & Annelies, a couple originally from the Netherlands who discovered the Kootenays in 2012, and 6 months later decided to make it their home. Shortly after moving to Nelson, they bought a 42 acre plot just outside of Ymir and in 2014 finished building 4 beautiful cabins hidden in the forest. In doing so, they realised a life long dream of owning and managing a luxury hotel: Logden Lodge.
So, where are you from originally and what brought you here?
Annelies: I'm in my third life right now. In life 1, I lived as a trademark attorney in Amsterdam. Then in life number 2, I worked as a career diplomat for The Netherlands Ministry of Foreign affairs and moved around a lot. I got to live and work in countries like Pakistan and Sudan, where I felt I was able to make a real difference to people's lives and meet people with lifestyles and cultures hugely different from my own. A few years ago, we were living in the Dominican Republic and came to Canada in search of a white Christmas.
Paul: I'm also from the Netherlands, but spent much of my more recent years trotting around the globe working for UNICEF, helping to develop programs for kids in countries recovering from civil conflict and natural disasters.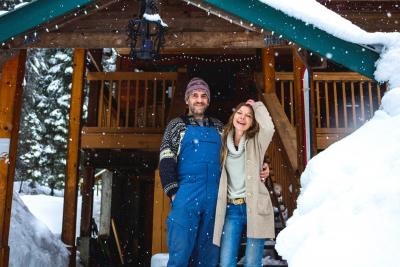 Why did you choose to make the Kootenays home?
Annelies: When we visited, we were so in awe of the beauty and the wonderful people, that we decided against our original plan of settling down in Namibia and quickly turned our attention to the Kootenays. The charm of the area was what attracted us to here and Nelson just felt so different to all the other places we'd been in Canada. It wasn't a hard choice.
Paul: Since moving here, we've been really pleasantly surprised to see such an eclectic range of people visiting this area from all over the world. For us, it reaffirmed that no matter where we come from, in the end we all share the same basic needs and desires. It's wonderful to see how many of those can be fulfilled in our small neck of the woods in tiny "wild and woolly" Ymir.
What inspired you to create Logden?
Paul: Despite no experience in hospitality or construction, we had a dream to build our own property and to change our pace of life. When we found the perfect spot to do it, we just had to pursue that dream!
Annelies: After years of staying in many hotels around the world myself, it somehow appealed to me to one day create a heavenly place for others to enjoy. When we came across Ymir, we knew it was the perfect place to build our piece of paradise: down the road from Whitewater Ski Resort, near Kootenay Pass and opposite the Bonnington Range, there's so much natural wilderness and beauty which surrounds this spot, it was hard not to be inspired from all of that.
Tell us about the Lodge
Annelies: When we set up this business, we decided that we run this lodge, it doesn't run us. We therefore deliberately kept it a small operation, with just 4 cabins available to rent. Doing so enables us to give the place a homely feel and develop an intimate and caring relationship with our guests, as well as giving us actual downtime for us to get out any enjoy nature and skiing too. Each cabin has its own private setting in the forest and is designed with its own unique layout. Furnishings include custom built furniture, antiques and world art from our private collection, as well as deep soaker baths, large covered verandas and top quality bedding. Each of our 4 cabins is themed from a different place that we've lived around the world. The Cottonwood cabin is decorated with items from "Interior Africa". The Gold Cup cabin is "Persian Asia" themed, the Heritage cabin brings you back to our native country with an "Old Dutch" theme and the Elise cabin adopts our new home, with a "Vintage Canadian" theme.
Paul: Whilst we want the experience of staying in these beautiful cabins to be enough in itself, the real selling points of Logden is the location and setting. Most of our guests try and get outside as much as they can. With such close proximity to some of the best skiing on the planet, that's not hard to do. For anyone not into downhill, there's endless opportunities for snowshoeing, right from our backdoor. Ice skating, cross-country skiing, snowmobiling and ice fishing are all also on the doorstep. For anyone who wants to chill out on the property, the wildlife is a huge attraction. You can hand-feed the birds which live here, and we also have a 'Logden wildlife cam' which captures many animals which cross our paths. We've seen wolves, a cougar (twice!), coyotes, lynx, bobcats, moose, mink and a ton of smaller creatures too!
Now you've been settled here for 5 years, what brings you the most excitement during the winter?
Annelies: I love getting up to Whitewater in the winter. Everyone skiing always seems to be so cheerful, which is probably from the hill's easy going and friendly vibe.
Paul: Bringing in the New Year is always a highlight for me. We now have a Logden tradition of coming together with all of our guests, with home-made mulled wine, plenty of bubbles, a huge bonfire and snow candles and of course a big splash on the fireworks. Can't wait!
So, you're set to stay?
Paul & Annelies: When you can call your own 42 acre forest your private office, you've got very little to complain about! The Kootenays are home.
Written by Bex Dawkes​ Cover photo by Steve Roberts
Head to the Logden Lodge website or follow them on Instagram to find out more about their winter activities, holiday packages and powder alliance discounts. If you're a Kootenay local and hold a Whitewater season pass, why not experience it for yourself, with $45 off per night.