Getting Here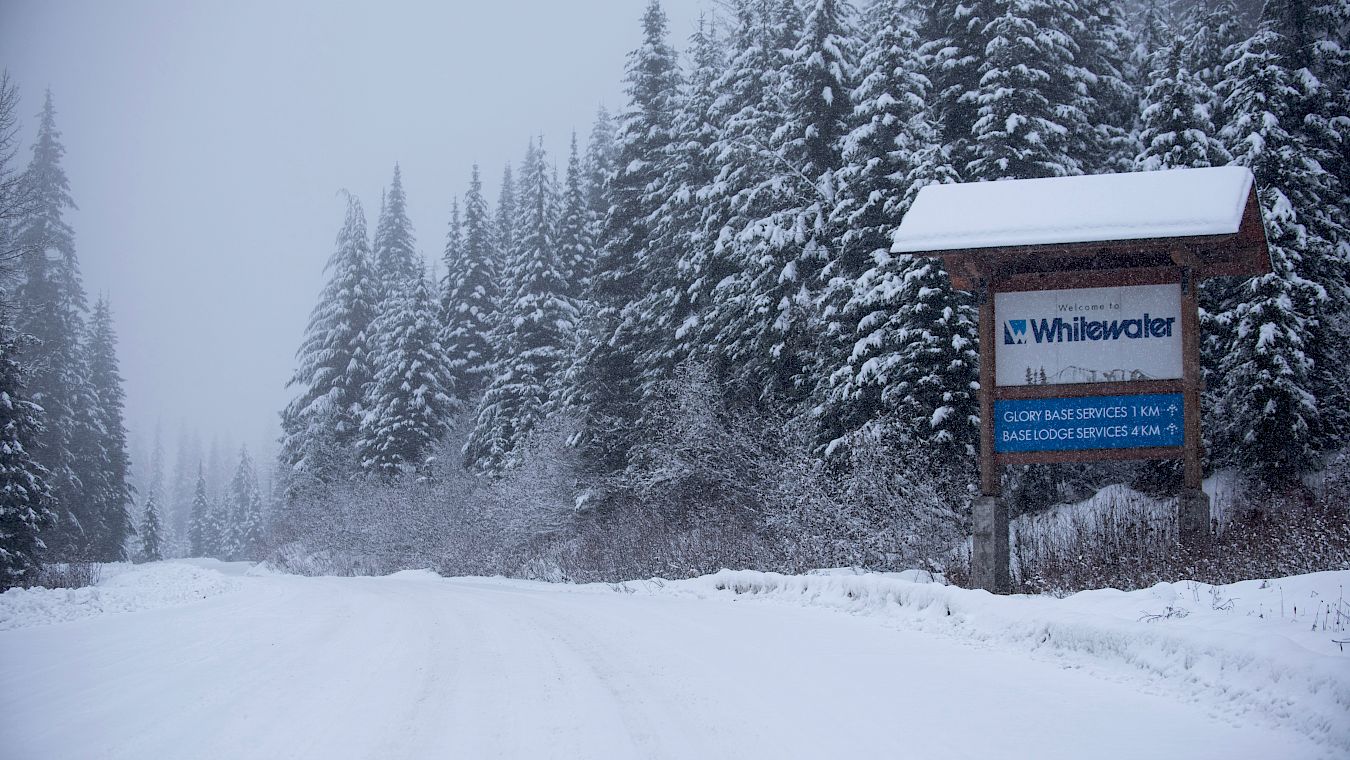 The journey to Whitewater is almost as good as the destination itself.
Whitewater Ski Resort is located 22 km south of the city of Nelson. Head south out of Nelson along Highway 6 for approximately 12 km until you see the sign for Whitewater Ski Resort. Turn left and head up the mountain for another 10 km. Be prepared to lose cell service & wifi; it's time to reconnect with nature and those around you.
Whitewater Shuttle
March 12 - April 9
Cost: $9 one way / $14 round trip
Online booking closes at midnight the night before. Please note that times are subject to change.
Pre-booked seats are non-refundable on the day of travel. If you require a refund, please email info@skiwhitewater.com more than 24 hours before your booking begins.
Please note that times may vary slightly based on bookings, so please be ready at the time below to ensure the quickest guest experience at pick-up locations.
| Departure Point | Time |
| --- | --- |
| Safeway | 8:10 am |
| Prestige Inn | 8:15 am |
| Prestige Lakeside Resort | 8:20 am |
| Whitewater Downtown Office | 8:25 am |
| Adventure Hotel | 8:30 am |
| Best Western | 8:35 am |
| The Hume Hotel | 8:40 am |
| Alpine Inn and Suites | 8:45 am |
| Arrival at the Ski Resort | 9:05 am |
| Return | Time |
| --- | --- |
| Departs the Mountain | 3:30 pm |
Guests 12 and under MUST be accompanied by someone 13 years or older. If you are requiring handicap assistance or plan to transport large amounts of gear please provide us with 24-hour advance notice so that we are able to ensure there is the proper transportation provided. If you are within the 24-hour period please contact info@skiwhitewater.com.
New Traffic Flows
Whitewater has 5 parking lots to access its base resort operation and nordic facilities, and there are a few changes to traffic flow this season. We ask all guests to review the recommended travel paths when navigating the resort to ensure smooth arrivals and departures.
Whitewater Rideshare
Rideshare makes it easy and fun to share and arrange rides. It remains 100% free to use for drivers and riders. Arrange rides between towns anywhere in North America quickly and without hassle. View ratings other people have left from past rides before deciding who to travel with. Chat with potential companions about details, ask questions and make arrangements for pickup. Then have a great ride and enjoy the company!
By Car
We work with Budget Car and Truck Rental to offer you discounts on your rental, anywhere from 5-25%. Click HERE to receive your savings today!
Departure City

Time

Distance
Spokane
3 hours
240 km
149 miles
Kelowna
4 hours
356 km
221 miles
Kamloops
6 hours
457 km
284 miles
Calgary
7 hours
614 km
382 miles
Vancouver
7.5 hours
657 km
408 miles
Seattle
7.5 hours
689 km
428 miles
Kootenay Gateway Spokane-Nelson Shuttle
Kootenay Gateway offers a 15-person shuttle every Thursday through Monday
from December 17, 2022 - March 26, 2023 (excludes Christmas and New Year's Day).
Departing from Nelson

Nelson
7:00 am
Castlegar Sandman
7:35 am
Rossland Prestige
8:00 am
Red Mountain Resort
8:15 am
Approximate arrival at Spokane International Airport
11:00 am
Departing from Spokane
Spokane International Airport
2:30 pm
Red Mountain Resort
5:30 pm
Rossland Prestige
5:45 pm
Castlegar Sandman
6:15 pm
Approximate arrival in Nelson
6:45 pm
BY PLANE
Nelson's nearest airport is the West Kootenay Regional Airport in Castlegar,
35 minutes away, with direct flights to Vancouver.
Airports
Location
Distance to Nelson
West Kootenay Regional Airport
Castlegar, BC
44 km
27 miles
Canadian Rockies International Airport
Cranbrook, BC
231 km
144 miles
Spokane International Airport
Spokane, WA
240 km
149 miles
Kelowna International Airport
Kelowna, BC
346 km
215 miles
Calgary International Airport
Calgary, AB
619 km
385 miles
Vancouver International Airport
Vancouver, BC
661 km
411 miles