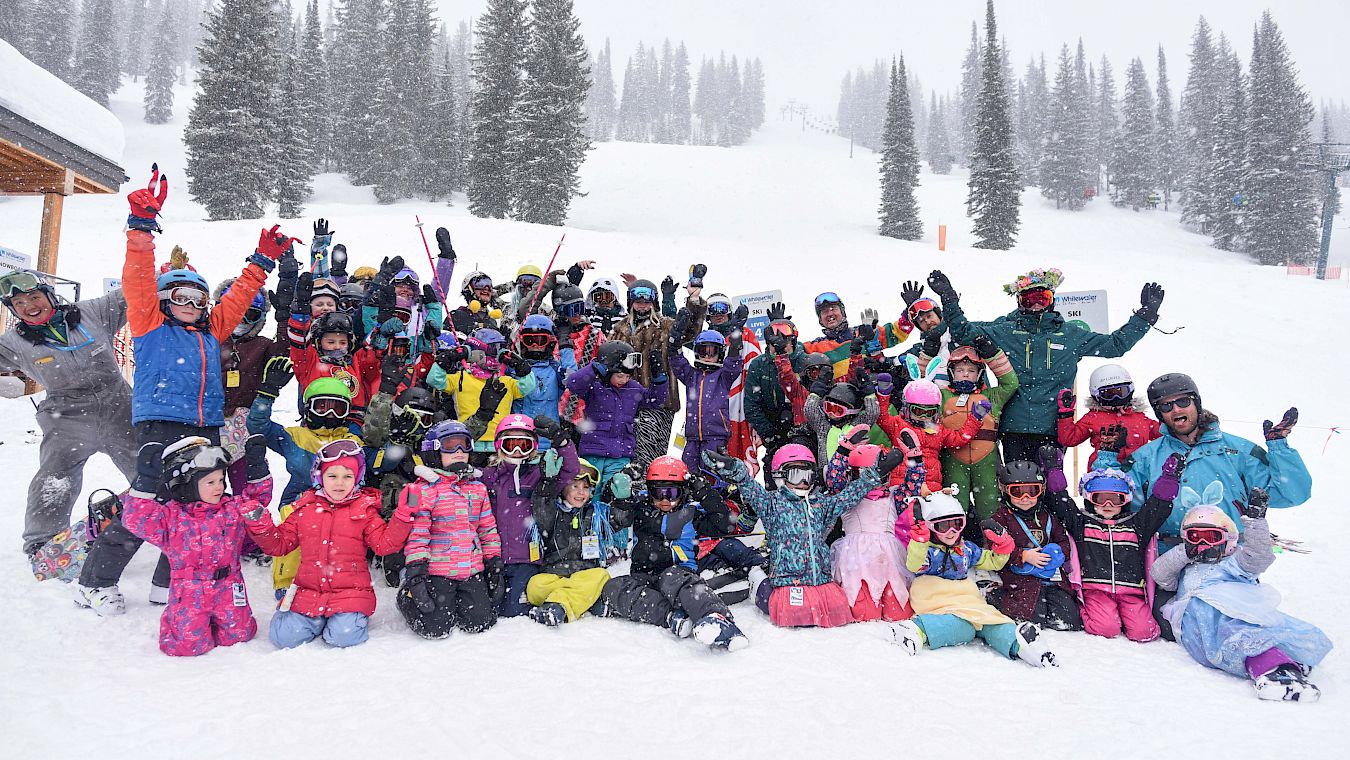 Youth & Junior Programs
Lessons For Your Little Ones
SNOW SCHOOL REGISTRATION IS NOW OPEN.
Early Bird Snow School pricing will be in effect from October 2-31, 2023 for our Youth & Junior Programs.
Perfect your skills or learn some new ones with our Youth & Junior programs. These 10-week courses are specifically designed for our young shredders and run from Saturday, January 6 - Saturday, March 9, 2024 or Sunday, January 7 - Sunday, March 10, 2024 in either the morning or afternoon. All lesson participants must have a valid Season Pass or daily Lift Tickets.
Youth & Junior Programs
Ability Level
Ski level 1-6 | Snowboard level 1-6
(See Level Descriptions)
Ages
4+
Duration

2.5 hours, every Saturday or every Sunday for 10 weeks from January-March

Dates

Saturday, January 6 - Saturday, March 9, 2024 or

Sunday, January 7 - Sunday, March 10, 2024
The best way to get your little tyke to experience our winter wonderland on skis. Your child will benefit from teaching techniques that have been expertly devised by the Canadian Ski Instructors Alliance (CSIA). Our pros are trained specifically to deal with the needs of this age group. They'll get results much faster than when a parent or friend tries to teach them, and as a bonus you'll have some much-appreciated free time on the hill to get in some skiing without having to tow the little ones around.
Little Muckers AM Half Day
9:00am - 11:30am
$368
Little Muckers PM Half Day
12:15pm - 2:45pm
$368
A great chance to get out and make new friends, all the while becoming a better skier or rider. Each week will focus on a different skill as you build your way to becoming a ski/snowboard superstar! But don't worry, you'll be having so much fun you won't even know you're learning.
Jokers AM Half Day
9:15am - 11:45am
$368
Jokers PM Half Day
12:30pm - 3:00pm
$368
This program focuses on getting young skiers and boarders stoked on riding the slopes! The skills they develop will help them become confident and capable out on the mountain through games, exercises, and guided freeriding run by our skilled instructors.
Blasters AM Half Day
9:30am - 12:00pm
$368
Blasters PM Half Day
12:45pm - 3:15pm
$368
APPRENTICE PROGRAM (AGES 14+)
For skiers 14+ who are interested in becoming a C.S.I.A. Level 1 Instructor, we have designed a 9-week long Apprentice Program from January 6, 2024 - March 2, 2024. Through this program, you will be able to shadow lessons of various ages and ability levels as well as receive training towards your C.S.I.A. Level 1 certification. After successfully completing the Apprentice program, you will be eligible to take a 1-day CSIA Level 1 Certification Exam.

Bookings must be done over the phone or in person.

Apprentice Program Saturdays
9:00am - 3:00pm
FREE
Apprentice Program Sundays
9:00am - 3:00pm
FREE
WHITEWATER SKI TEAM
The Whitewater Ski Team is a racing club based out of Nelson B.C., which trains at Whitewater Ski Resort, offering programs for children of all skill levels and as young as 5 years old. The dedication of Dylan Henderson and his coaching team to building lifelong lovers of skiing and providing a supportive, fun learning environment to instill confidence, skill, and respect, has grown generations of exceptional athletes.
BOOKING INFORMATION
To book, call (250) 352-1286 or email snowschool@skiwhitewater.com.
All lesson guests must have a valid Season Pass or daily Lift Tickets. Lift Tickets are not included in program prices unless otherwise stated.
Program availability and lesson formats are subject to change.
Lessons must be paid in full at the time of booking.
A $25 refund fee will be applied to all cancellations after the time of booking.
Cancellations made more than 48 hours prior to the lesson start time are eligible to be rebooked or refunded minus the refund fee.
Cancellations made within 48 hours of the lesson start time that cannot be rescheduled are not refundable.
Refunds will not be issued for no-shows.
Taxes are not included in the advertised price and all lessons are subject to 5% GST.